Is my home an Eichler?
Posted by Renee & Barry Adelmann,Eichler For Sale Team on Tuesday, October 24, 2023 at 3:51:36 PM
By Renee & Barry Adelmann,Eichler For Sale Team / October 24, 2023
Comment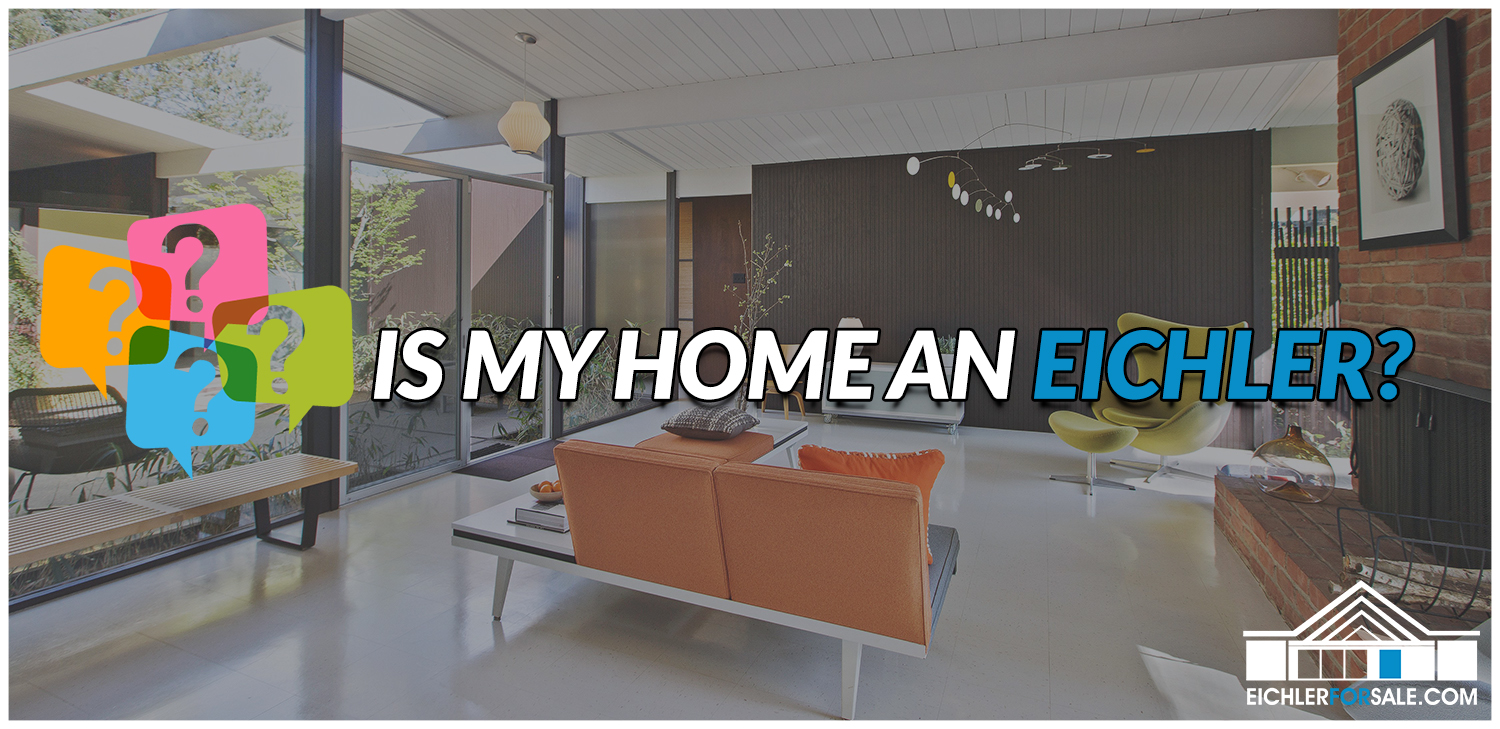 It happens several times a year...we'll receive a phone call from a proud homeowner asking the question "Is my home an Eichler Home"? Oftentimes the homeowner will follow-up with photos of their mid-century modern home and other property details hoping to find a definititve answer since their home shares many design elements commonly found with Eichlers including:
Post-and-Beam Construction: Eichlers are known for their exposed post-and-beam construction, giving them a modern and airy feel.
Floor-to-Ceiling Windows: Eichler Homes have large windows, especially in the back, which allow for a seamless connection with the outdoors.
Open Floor Plans: One of the most distinctive features of an Eichler Home is its spacious and open floor plan, which was quite revolutionary for its time.
Atriums: Many Eichler homes have a central atrium or courtyard, which is like a little oasis right in the middle of the house.
Flat or Low-sloping Roofs: Unlike the steeply pitched roofs you might find in other traditional homes, Eichlers typically have flat or gently sloping roofs.
Radiant Heating: Eichler was quite innovative for his time, and his homes came equipped with in-floor, hydronic radiant floor heating.
As long-time Eichler Homeowners and Realtors who specialize in these homes, we'll give you a quick rundown on how you can determine if your lovely abode is one of Joseph Eichler's iconic mid-century modern designs.
5 Steps to determine if your property is an Eichler Home
#1 First things first: LOCATION!
The first question we ask anyone who reaches out to us as to whether or not they have an Eichler Home is to simply ask them exactly 📍WHERE the home is located. If their answer is anything but California or New York, the quick answer is sorry - your home is NOT an Eichler.

With the exception of 3 Eichler Homes which were built in New York, all Eichler Homes were built in California. Specifically, Joseph Eichler built around 10,300 Homes (9,660 in the San Francisco Bay Area, 575 in Southern California, 62 in the Greater Sacramento Area, plus the 3 in New York). Our blog post which highlights how many Eichler homes were built provides a detailed map outlining the specific towns and cities where Eichler Homes were built.

If your home is located anywhere outside of this map of Eichler Homes in California, it's almost guaranteed that you don't have an Eichler. Sorry! (but we know you still may have a very cool mid-century modern home 👍).
#2 Year Built: A Quick Check
Assuming your home falls within the California boundries, the next question we would ask is 🗓️ WHAT YEAR was the home built? Single-family Eichler Homes were built between 1949 and 1966. If your home falls outside of this timeframe, i'ts doubtful that your home is an Eichler.
#3 Neighborhood Check: What do your neighbor's homes look like?
With rare exception, virtually all of Joseph Eichler's homes were built in housing tracts. These tracts consisted of multiple similar houses built on a tract of land that were subdivided into smaller lots. By constructing tract homes, Eichler Homes, Inc. could achieve economies of scale, reduce individual construction costs, and streamline the building process, ensuring that more families could own a piece of innovative, mid-century modern architecture without the hefty price tag of a custom designed home.
So - take a look out your window....do neighboring homes have a similar design and style as yours? If so (and if your home's location and year built is consistent with the timelines presented above) you could have an Eichler Home or possibly a "Like-ler" (a home that looks like an Eichler but is not actually an Eichler). Common builders and homes that share many of the design characteristics of Eichlers (but aren't Eichlers!) include: Alliance-built Homes, Streng Homes, MacKay Homes and Cliff May Homes.
#4 Check Building Records
If you still think you may have an Eichler Home but are still unsure, simply check with the county's building records department. This will require an in-person visit in order to do the research but it can be a fun activity since you'll often find out more about the history and background of your home then you ever knew was possible!
#5 Call an Eichler Expert
Last but not least (and maybe this should have been the first step!) you can simply call an Eichler savvy Realtor that can help you. Truth be told, most real estate agents have never been inside of an Eichler Home (much less sold one) so if you are seeking answers, turn to an Eichler Homes Expert for authoritative assistance and guidance.