The Eichler Pricing Paradox
Posted by Renee & Barry Adelmann,Eichler For Sale Team on Sunday, October 15, 2023 at 4:35 PM
By Renee & Barry Adelmann,Eichler For Sale Team / October 15, 2023
Comment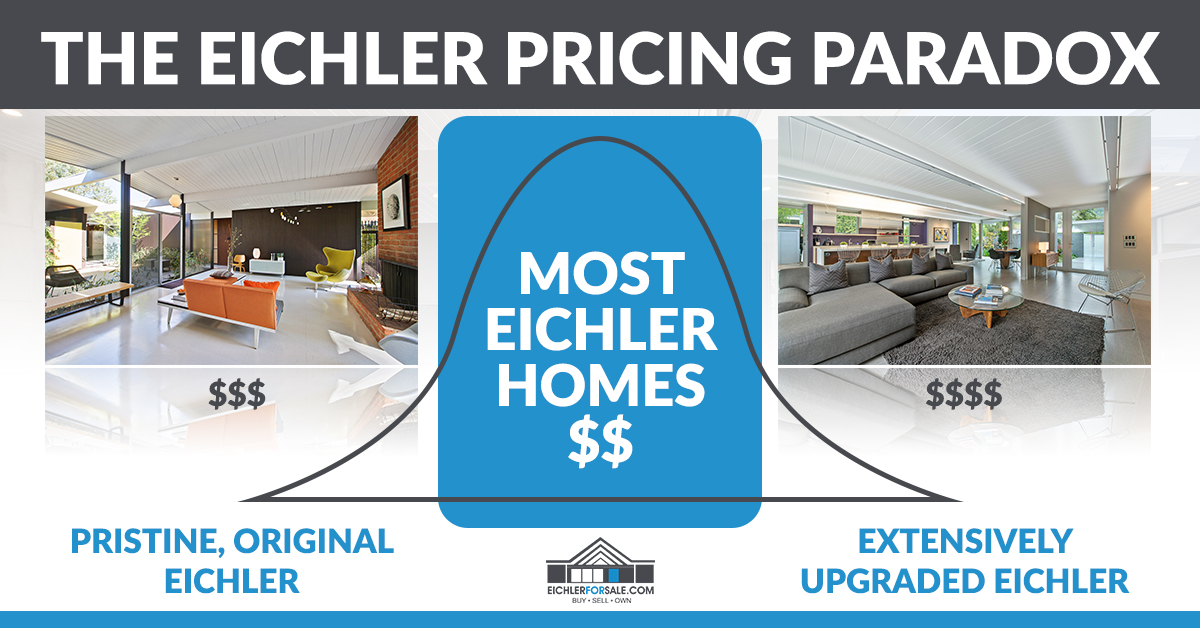 Are you confused by Eichler Home prices? Are you (or your well-intentioned friend, parent or real estate agent) puzzled while browsing or walking thru Eichler listings, trying to correlate the asking price of an Eichler Home with the perceived value given the age or condition of the home?
As Realtor's who specialize in Eichlers & mid-century modern homes, we see this happen frequently with Buyers or Realtors who either:
Are early in their home search process, or
Don't fully understand (or appreciate) mid-century modern design & architecture.
While we don't want to pull anyone uphill if mid-century modern architecture isn't their thing, we did want to provide some general guidance on Eichler Home pricing if you are just starting your search.
Eichler Home Prices - Location, Location, Location
First and foremost (and just like all other real estate), the exact location of a home is going to have a very strong influence on price. If you want to get a general feel for the price range of Eichler Homes, the best place to start is by looking at Eichler Homes for sale across California on our website and then taking a deeper dive into individual counties, cities and neighborhoods that are of greatest interest to you. As you narrow your focus, you'll find that the pricing bands begin to tighten. This approach is really no different than what you would expect when searching for a traditional home however HOW and WHERE Eichler Homes prices fall within this price range is often a source of confusion which we refer to as the "Eichler Pricing Paradox".
Eichler Home Pricing: Original vs. Updated vs Extensively Remodeled
When previewing Eichlers, you'll typically find that they fall into 1 of 3 distinct categories:
Original Eichler Homes. "Original Eichlers" are essentially preserved time capsules which retain all or most of their original characteristics such as Philippine mahogany paneling, globe lighting, Zolatone cabinetry with sliding doors, extendable swing-out kitchen table, tile flooring, Arcadia sliding doors, single-pane glass, and more. Generally speaking, less than 10% of the Eichlers that come up for sale fall into this "original" category.
Updated or Some Updates. The overwhelming majority (70-80%) of Eichler Homes fall into this updated category. Since most Eichler Homes were built in the 1950s and early 1960s, many owners have made incremental updates along the way. The most common updates we see are changes to the kitchen, bathrooms, lighting, and flooring, with many of these updates being done in the 1980s or early 1990s.
Extensively Upgraded Eichlers. The balance of Eichlers (10-20%) are homes that have (recently) been extensively updated and remodeled throughout. Often these are "down to the stud" remodels that honor the original design and indoor/outdoor flow of Eichler Homes but advance the design with premium features, amenities and design details that appeal to a wide pool of modern day home buyers.
When it comes to Eichler Home pricing, many people are surprised to find out that premium pricing can actually be found at completely opposite ends of the spectrum. Specifically, Eichler Homes that command the highest sale prices are either Original Eichlers or Extensively Upgraded Eichlers.
While it's logical that extensively and tastefully upgraded Eichler Homes would command a price premium, many people are surprised to discover that original, well-preserved Eichlers also command a healthy price premium, often on par with homes that have recently been extensively updated at great expense.
The price premium for these Original Eichler Homes exist because they have essentially become collectors' items. As time has passed, Original Eichlers have become increasingly difficult to find and purist and other design aficionados actively seek them out. In many ways their appeal mimics what can often be seen in the classic car community where well-kept, vintage cars often sell for more (an in many instances, significantly more) than modern day vehicles.
"I'm Thinking of Buying an Eichler" & How to Use This Pricing Information
If you are a prospective Buyer on a budget, your best bet is to seek out an Updated or Somewhat Updated Eichler Home which you can later personalize and update to suite your taste. Fortunately, the majority of Eichlers fall into this category so you shouldn't have too much difficulty finding the right home for you, especially if you are working with an experienced Eichler Buyers Agent. Additionally, an experienced Eichler Realtor can provide you with specific guidance and local Eichler vendor recommendations to help you personalize your home.

If you are looking for a classic Eichler Home that has been frozen in time or a significantly and tastefully remodeled Eichler Home, you'll need to have a larger budget as well as some patience since these homes aren't as common.
Whether you are interested in a museum-quality, Original Eichler, an Updated Eichler or a totally Remodeled Eichler, our team of Eichler Realtors would welcome the opportunity to assist you (additonally, we gladly handle Eichler client referrals from other Agents). Simply complete THIS FORM or call us at 415-EICHLER (415-342-4537) and let us put our experience to work for you.